Helmut Newton 100 Years launched at Zebra One Gallery on 31 October – on what would have been the late photographer's birthday it ran until 14 November
Vintage Prints
The exhibition will feature 18 original, vintage silver gelatin prints from the "Private Property Collection" that was originally a three-part portfolio containing 45 black-and-white photographs.
It includes Newton's best work from the period 1972-1983, an exquisite assortment of fashion shots, portraits, and erotic motifs which are all based on real locations and luxurious life styles.
Elsa Peretti
These include numerous images that have become iconic – Helmut Newton's 1975 shot of Elsa Peretti leaning languidly on a terrace at 11am in the fashion designer and her best friend Halston's take on a Playboy Bunny costume.
Woman into Man, both versions of Rue Aubriot, Self-Portrait with Wife and Models, and Woman Examining Man, to name but a few.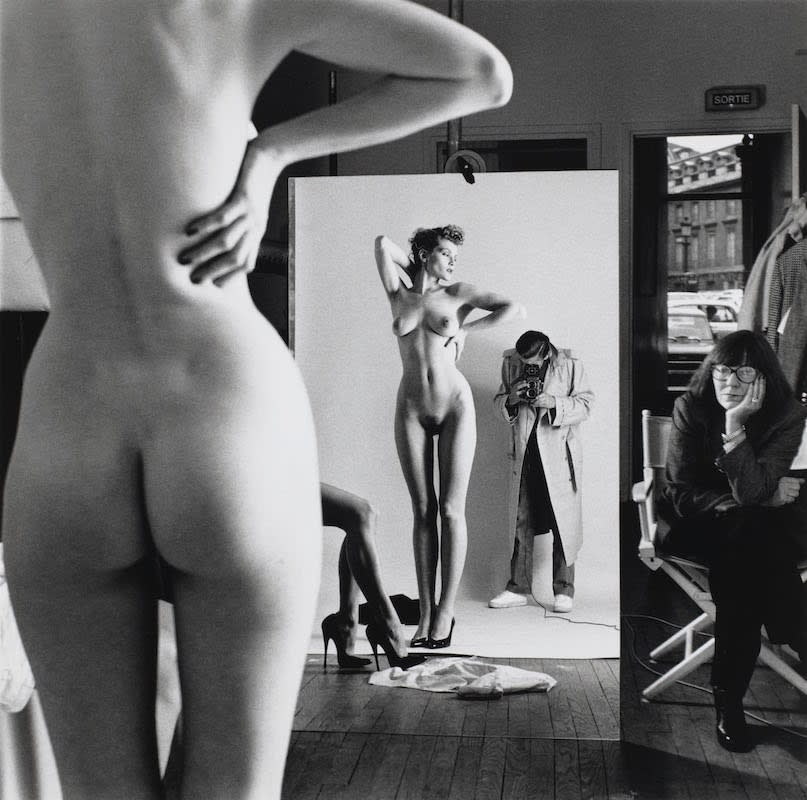 Helmut Newton Biography
Newton was born in Berlin, the son of Klara "Claire" (née Marquis) and Max Neustädter, a button factory owner. His family was Jewish. Newton attended the Heinrich-von-Treitschke-Realgymnasium and the American School in Berlin.
His First Camera
Interested in photography from the age of 12 when he purchased his first camera, he worked for the German photographer Yva (Elsie Neuländer Simon) from 1936.
Leaving Germany
The increasingly oppressive restrictions placed on Jews by the Nuremberg laws meant that his father lost control of the factory in which he manufactured buttons and buckles; and he was briefly interned in a concentration camp on Kristallnacht, 9 November 1938, which finally compelled the family to leave Germany. Newton's parents fled to Argentina. He was then issued with a passport just after turning 18 and left Germany on 5 December 1938. At Trieste he boarded the Conte Rosso (along with about 200 others escaping the Nazis), intending to journey to China. After arriving in Singapore he found he was able to remain there, first briefly as a photographer for the Straits Times and then as a portrait photographer.
The first Studio
In 1946, Newton set up a studio in fashionable Flinders Lane in Melbourne, he worked on fashion, theatre and industrial photography in the affluent postwar years.
First Exhibition
Newton shared his first joint exhibition in May 1953 with Wolfgang Sievers, a German refugee like himself, who had also served in the same company. The exhibition of 'New Visions in Photography' was displayed at the Federal Hotel in Collins Street and was probably the first glimpse of New Objectivity photography in Australia.
Newton went into partnership with Henry Talbot, a fellow German Jew who had also been interned at Tatura, and his association with the studio continued even after 1957, when he left Australia for London. The studio was renamed 'Helmut Newton and Henry Talbot'.
Vogue Calling
Newton's growing reputation as a fashion photographer was rewarded when he secured a commission to illustrate fashions in a special Australian supplement for Vogue magazine, published in January 1956. He won a 12-month contract with British Vogue and left for London in February 1957, leaving Talbot to manage the business. Newton left the magazine before the end of his contract and went to Paris, where he worked for French and German magazines. He returned to Melbourne in March 1959 to a contract for Australian Vogue.
Helmut Marries
In 1948, he married actress June Browne, who performed under the stage name June Brunell. She later became a successful photographer under the ironic pseudonym Alice Springs (after Alice Springs, the central Australian town).
Off to Paris
Newton and wife finally settled in Paris in 1961 and the work continued as a fashion photographer. His images appeared in magazines including the French edition of Vogue and Harper's Bazaar.
A heart attack in 1970 reduced Newton's output, nevertheless his wife's encouragement led to his profile continuing to expand, especially with a big success, the 1980 studio-bound stark infinity of the "Big Nudes" series. His "Naked and Dressed" portfolio followed and in 1992 "Domestic Nudes" which marked the pinnacle of his erotic-urban style, these series all underpinned with the prowess of his technical skills.
Newton also worked in portraiture and more fantastical studies.
Helmut Newton 100 Years Exhibition
and Baby Sumo
released to mark the centenary of Newton's birth. The book has been shrunk to exactly half the size of the famous 1999 original and published in a limited edition of 10,000, with more than 400 photographs and an accompanying bookstand and pedestal designed by Philippe Starck.
September 22, 2022