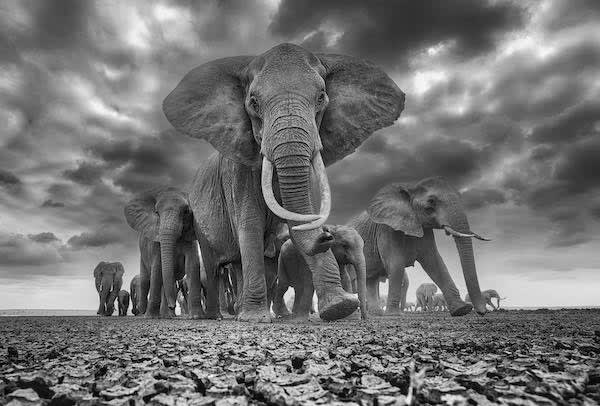 The exhibition features art celebrating the earth, sea and its beautiful animals, marine-life and ecosystems, which urgently need our help and has been curated by Wood and Zebra One Gallery's Gabrielle Du Plooy, showcasing pieces including Damien Hirst's cherry blossoms, Andy Warhol's Flowers, Bob Dylan's sunflower and countryside paintings and Bein Eines' Earth.
A host of artists passionate about conservation have also contributed work to the project, including photographer El Hardwick's bold photography, exploring how to heal a damaged planet; Chris Fallows' Lightbox photographic encounters with iconic animals in extraordinary moments; photography from explorer, photographer and environmentalist Konrad Bartelski - from the Norwegian Arctic to Antarctica - as well as mesmerising and psychedelic collages of mushrooms by Seana Gavin, bee, butterfly and polar bear paintings by Leah Wood and pieces by urban artist, Dom Pattinson and provocative, international painter and sculptor Mason Storm.



Wood says: "My passions are art, painting and my ambassador work for Cool Earth, so I'm proud to combine these to raise money and awareness for Cool Earth and Sea Shepherd at such a critical time for the planet. We must continue to take urgent climate action to protect rainforest and support people who live there."
The exhibition will launch with a VIP Private View at Koppel Project on 2 June and will open to the public on 3 June, before moving to Zebra One Gallery's virtual exhibition (www.zebraonegallery.com) with key pieces available to view in person at the Hampstead gallery until 16 June.
The charity partners of the show are Cool Earth - UK-based, international NGO that protects endangered rainforests in order to combat global warming, protect ecosystems and provide employment for local people - and Sea Shepherd UK, the international non-profit, marine wildlife conservation organisation.
---
Zebra One Gallery owner and curator, Gabrielle Du Plooy explains: "With World Environment Day coming up on 5 June, there has never been a more vital time to take action - we have one planet and one chance.
"We are proud to have so many incredible artists who share our passion - many of whom have captured its incredible natural wonders up close and provided them for this show, and others who have seen the devastating impact humans have had on the planet, and explore that in the exhibition and - more importantly - what we can do to help it heal."
Featured artist, Bartelski's career from champion Olympic skier to explorer and photographer has given him first-hand experience of the effect man is having on the delicate ecosystems above the snow-line.
He says: "We are seeing the stark and frightening evidence that humans have had on the very delicately balanced nature.
"The scale of the vanishing Mer de Grace above Chamonix is staggering. In 1980 one of my most treasured memories was skiing down the Pad de Chèvres, below the Grand Montets, yet 40 years later I could not repeat that same experience, due to the huge loss of the glacial ice."
Chris Fallows' breathtaking Lightbox photography in the show is the culmination of more than 3000 days spent at sea and at least four visits to all seven continents.




He concludes: "It is my sincere hope that my images conjure up a sense of pride for sharing our planet with these incredible creatures and create a need to conserve what is left, so that others may walk the same path of privileged natural experiences as I have done."